Ancient Moonlight White Bud Bar Tea
DB­‐BB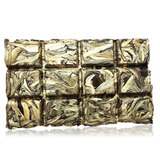 White Teas
Description
Silky, smooth, fuzzy, golden white buds from Yunnan. One taste of this soft, smooth, naturally, silky fruity flavor and you will be addicted like us! The Qi feeling is light and soft, with a overall sense of well-being. This tea is a white tea, thus cooling, which is good for the coming summer! It is beneficial for eyesight, high in amino acids, polyphenols and much more.
Handpicked and processed on the full-moon from ancient tea trees dating back as old as 400 years old in the high mountains of Yunnan, the locals believe this special tea holds a unique energy and spirit from the phase of the moon. The production method is a closely guarded, mysterious secret for hundreds of years who only the local tea masters know. Its name comes from its unique shape and color. On one side of the leaf it is white and on the other is a shadowy black, like the moon, as if the moon shines on tea bud.
It is only harvested in March to May in very limited quantities when the first buds and tender tea leaves emerge on the ancient tea trees. The cool spring weather gives the slow growing buds a concentrated flavor and aroma. It is only in the spring season that the climatic conditions are present for the proper withering and curing of Ancient Moonlight White. It is delicately air dried and pressed into 50g bars and breaks off into 4g pieces perfect or brewing.
Packed with powerful antioxidants, which can strengthen the immune system and raises energy levels. It also improves concentration, enhances mood and can be beneficial for depression. It destroys free radicals thus beautify the skin.*
Brewing

Quantity

Temperature

Time

White Tea

12oz Pot: 2 Tbsp (3 gms)

180 – 200F

1 – 3 mins.

Gaiwan: ½ of the Gaiwan

30 Seconds; Add 5 Sec to each subsequent infusion




Farmer
Tea Master Chen Mei

Chen Mei is of the Dai tribe in Yunnan Province and has been honing her skills in picking and producing ancient tea tree teas since a young age. During the Cultural Revolution, the government had ordered all the ancient tea trees in Yunnan be cut so to cut the relationship to the ancient culture. Her grandfather who was managing the ancient tea garden at the time, risked his life by forbidding anyone in the village from cutting these beautiful ancient trees. He told them he would die fighting if he had to in order to protect these sacred trees. Now her grandfather's ancient tea tree plantation is regarded as having the most unique tea tree forest on the mountain as it was completely in tact throughout the Cultural Revolution.

Know more about her Teas.


Location
Reviews:
"I previously reviewed this tea and it has been one of my favorites for some time...
What was floral at first gave way to woody, herbaceous and even creamy notes. Towards the end, I was getting a unique taste that reminded me of the aftertaste of sage. Each of our brewing setups was a bit different so it was also interesting to compare the taste differences between them.
"
"Really good, like on-par-with-any-Chinese-white-tea good. It held up for a whoppin' three steeps that way, too. Yielding strong brew after strong brew. Well done, Moonlight. You saucy minx, you."
Read the full review here:
*These statements have not been evaluated by the FDA. This product is not intended to diagnose,treat,cure or prevent any disease.