Should We Prepare Tea For Food Crisis, Food Shortage And Hunger?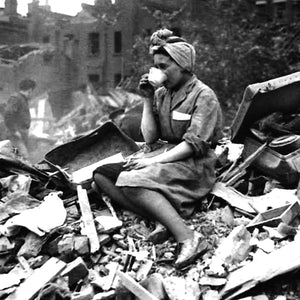 What We Learned From History 
"Napoleon isn't the only oft-quoted military figure who favored foodstuffs over firepower. The former First Lord of the Admiralty, and Prime Minister through most of the war, Winston Churchill, once called tea "more important than ammunition" (though not during his famous "we will fight them on the beaches" speech, for obvious morale-related reasons). And the way it was prioritized during the Second World War reflects this feeling exactly. Just two days after the war's outbreak in September 1939, the British Government took tea-related measures into its own hands. Rightly fearing the destructive potential of Nazi air raids over the capital, they decided to safeguard the country's tea supply by relocating its vast reserves outside London."
- History Collection
"As German bombs fell on London in September 1939, the British tea industry faced a dilemma they had feared for some time. How would they protect their precious commodity that fueled an empire? Tea.

Lord Woolton, Minister of Food, recounted the tumultuous time: "When London was being persistently bombed, I had to tell the tea blenders to remove their stocks to less vulnerable positions – a scheme drawn up by the Tea Buyers' Association in 1937 at the request of the Food Defense Department."
- A Social History of Tea
Today, empty shelves and inflated prices are the new normal in grocery stores across all countries in the world. For months now, previously affordable items have become significantly more expensive, or even impossible to find at all. Many Americans have looked forward to state and local governments lifting restrictions, taking this as a sign that the worst of the pandemic is coming to an end and that things will return to some semblance of regular life soon. However, experts are now shifting their predictions. They say that, despite easing restrictions, the food shortages may get worse yet.

The prices people paid for basics like eggs, meat, cereal, and milk jumped up in April as people rushed to supermarkets in order to stock up on food, worried that widespread government lockdowns would keep them from getting needed resources.

In the US, The Labor Department reported that the cost of groceries for Americans jumped by 2.6 percent last month, representing the largest one-month spike that has occurred in almost 50 years, since February 1974.
As the pandemic tears across the globe, the toll exacted in lives a lost and ruined grows by the day. But for those already in need, the hungry and starving, COVID-19 is accelerating their nightmares.
The World Food Progam is warning that by the end of this year (2020) it could have to feed the most people in the agency's history, nearly 140 million. That's 40 million more than they expected pre-COVID. In a new report, it warns that COVID-19 has exacerbated already existing crises, like climate change and displacement from war. To help keep up with the increased need, the WFP is calling on developed nations to provide US$5 billion over the next six months (since July 21st, 2020).
In China, since late May 2020, southern China has been experiencing heavy rainfall, with floods occurring in more than 20 provinces. According to China's official statistics, as of July 12, a total of 27 provinces, municipalities, and autonomous regions were affected by the disaster, with an area of 8.8 million acres of crops affected, including the production of major grain crops, such as rice, wheat, and corn. In the first half of this year, hailstorms, forest fires, earthquakes, droughts, freezing temperatures, and snowstorms have caused 15.24 million acres of damages to crops, making it as much as 9% of China's total harvest area.
Why We're Preparing Tea For Food Crisis, Food Shortage, And Hunger?
"If you stockpile food for the next few years you will certainly save yourself from the stress that most other people will have. When there are food shortages you probably won't be in starvation mode and will be able to live a better life despite the events happening in the world. If you agree thus far, I'm sure you'll also agree that it's wise to stockpile food that will last the longest time on the shelf. 
SURVIVAL FOODS THAT HAVE THE LONGEST SHELF LIFE
These are the 46 foods that last a very long time-- some of them never expire! They are ideal for long term storage, therefore you should definitely consider stockpiling them for survival!
1. SOFT GRAINS
2. HARD GRAINS
3. ROLLED OATS
4. WHITE RICE
5. HARDTACK
6. FLOUR
7. DRY PASTA
8. RAMEN NOODLES
9. CANNED SPAGHETTI
10. DRIED BEANS
11. CANNED BEANS
12. DRIED LENTILS AND LEGUMES
13. DEHYDRATED FRUIT
14. DEHYDRATED VEGGIES
15. DRIED CORN
16. POTATO FLAKES
17. DRIED MEAT
18. FREEZE-DRIED MEAT
19. CANNED MEAT
20. PEMMICAN
21. POWDERED WHOLE EGGS
22. PEANUT BUTTER
23. COCONUT OIL
24. OLIVE OIL
25. GHEE
26. MAPLE SYRUP
27. CORN SYRUP
28. SUGAR
29. RAW HONEY
30. HARD CANDY
31. DRY JELLO MIX
32. CORN STARCH
33. SOY SAUCE
34. VINEGAR
35. ALCOHOL
36. PURE VANILLA EXTRACT
37. SALT
38. STOCK / BOUILLON
39. DRIED HERBS AND SPICES
40. BAKING SODA
41. INSTANT / FREEZE-DRIED COFFEE
42. POWDERED MILK
43. RAW CACAO / COCOA POWDER
44. CANNED FOOD
45. MRE's (MEALS READY TO EAT)
46. High Quality TEA
How Long The Tea Can Be Stored?
Tea, as one of can be long lasting storage food. The highest quality teas made from real ancient tea trees which grown in biodiversity forest and done by the handmade in the correct method which can be aged and last FOREVER! All the risk of consuming tea to get sick is from drinking low-quality teas. So quality is the most important!
Generally, the shelf-life period for normal green teas or black teas should be within 2 years. Beyond this period, even if they are kept in good condition, their aromas still decrease gradually with time. But when it comes to aged ancient tea tree artisanal Black Tea, White Tea, and Puer Tea they can be aged forever and even go way up in value as a solid investment. 
Aged Ancient Tea Tree Artisanal White Tea
The term aged ancient tea tree artisanal white tea refers solely to these white teas which have been stored for a long period of time (10-20 years). Different from traditional green tea or white tea, but like Pu-erh, Lao Bai Cha (Old aged white tea) continues to oxidize during storage, the longer they are stored, the richer and mellower they will be. No matter how long they are stored, the storage time should not hit their expiration date. During the storage, there are a series of changes that have been taking place inside the tea. There is a saying about aged white tea in China: "one-year tea, three-year medicine, seven-year treasure". It means one-year-old aged white tea still remains a tea, the three-year-old aged white tea is not merely a common tea but has great value in medicine and the seven-year-old aged tea turns to be a treasure pursued by tea enthusiasts.
Ancient tea tree artisanal Black tea and Puer tea can be aged indefinitely if stored in an environment with a stable temperature, dry, no direct sunlight. Over time the value can increase significantly creating a wonderful investment. The flavors will change and health benefits increase exponentially. 
"You've probably experienced tea as a drink, but it turns out that eating tea leaves may be beneficial too!
Tea experts and novices alike have something to learn about tea, though. It turns out that drinking your tea isn't the only way to experience its health benefits. It's said that eating tea leaves can introduce antioxidants into your body. This sounds great, but doesn't drink tea provide antioxidants as well? Yes, drinking tea does provide flavonoids that have been shown to be beneficial to one's health, but the number of antioxidants in solid leaves can be incredibly (and almost unbelievably) higher than leaves that have been brewed. One chart compares flavonoid levels in brewed green tea to solid green tea leaves. Using units of milligrams per 100 grams, it shows flavonoid levels in solid leaves as being up to over 12,000 percent higher than their brewed counterparts. If getting plenty of antioxidants is your goal (as well as some added benefits like digestive and heart health), you may want to consider nibbling the contents of your tea rather than brewing them."
We made some delicious traditional Chinese dishes done by Cooking With Tea!  You will be surprised how many dishes we can make by using high-quality tea leaves! If you out of vegetable supplies, tea leaves might save your life in a healthy way!
Tea is The Best Natural Medicine
"Based on traditional Chinese medical theory, tea is originally a medicine, not just a tasty beverage. Different teas relate to different 5 elements, and each has its own medical benefits.
For example, the taste of white tea is very smooth and well known as being rich in antioxidants. In traditional Chinese medicine, white tea is well known for its benefit of smoothing out the functioning of the liver. "
We have wrote a book 5 Element Tea as the guidebook to help you explore how to use different teas to heal different diseases in natural way. The Five Elements of tea is a process of accumulation. After you have read all the theory and absorbed it, you can easily choose and brew the right tea to help you and the people you care about achieve long-term health benefits.
"Survival depends a great deal on a person's ability to withstand stress in emergency situations. Your brain is without doubt your best survival tool. One definitely must be in the proper frame of mind to survive an unplanned survival situation.
While in your survival situation you will be confronted with many problems that you will need to overcome. To keep your body alive you must react to your body's problem indicators and defend yourself against the major enemies of survival."
Keep your mood in balance is always the key to help your brain work functionally. Without doubt, good quality tea can always helps you keep calm, focused, stay in positive and relax.
Read More What We Have Learned From Coronavirus
Last, we want to say: 
We need love for each other more than anytime. We're sending love to all the tea lovers around the world. Let's save our true artisans, let them know we value their skills that bring so many happy moments to people around the world. Let's say no to large scale factory produced teas and tea wares and protect these invaluable artisans for the next generation to enjoy. Let's share the love to each other and protect the unique ancient cultures for the next generations. 
We don't consider ourselves belongs to any specific countries, we only belong to the mother earth. We love all the people on this planet, only when we have love and giving love for each other, the good cultures can continuing pass down to next generations.
We wish you stay in healthy, safe, happy and free!
Love & Peace 
For more informations. Please check
• Yin Yang Emotion Balance Teas
• ITA Certified Online Course - Ancient Chinese Science & Art of Brewing Tea 
• Tea book 5 Element Tea
• Tea Book Tea Poison
@ All copy right reserved by Wildteaqi.com & InternationalTeaAcademy.com
Leave a comment
Comments will be approved before showing up.