Spring Invites Tea Buds Sprout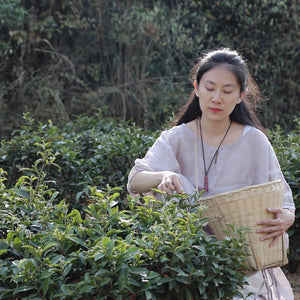 In the last edition of the tea blog, we have mentioned Why Drinking Spring Tea is So Important?
Time is flying by and the first wave of spring tea for 2021 has already been made - Artisan Yunnan Longjing (DragonWell) Green Tea. And it was already close to being snapped up on the first day it was made. By far the earliest green tea in the world that can be called spring buds and the earliest fresh green tea that can be tasted in spring - Artisan Yunnan Longjing (DragonWell) Green Tea now has less than 10 boxes left, so if you miss out, you will have to wait another year.

We recorded some images below that process of making this Artisan Yunnan Longjing Green Tea, from harvesting to making the tea, every step was handmade by hard-working from our in-house tea artisan - Shana Zhang. For this reason, we have also prepared three important ancient tea poems for you, and what is told in the poems are also the ancient principles of tea making that we follow to make this Artisan Yunnan Longjing Green Tea for you.
Tea Habitat
Tea tides effuse over the hilly ground,
Hidden trails coil up round and round.
Lushly canopied is each sun-favored slope,
Shaded places do not hold as much hope.
Hair pinned, the picking girls roam by,
Cute baskets are stuffed sweetly wry.
The best time for picking the jade flow:
Rocks are dew crowned before sun-glow.
.
Tea Lovers
Innate connoisseurs of the blissful plant,
Naive and open with the Nature's grant.
Roam to the North Hill peace upon ease,
As for a rendezvous with the east breeze.
New greens to be found as showers greet,
Hidden trails in mist betray familiar feet.
Cuckoos echo them in early springs alone,
Sharing a mood prone to sing and to groan.
.
.
Tea Shoots
Nature breeds the quintessence abound,
Spring invites bud from under the ground.
In mist their sprouts are happily found,
Jade tubes pop looking tender and round.
Pickers' mission starts as dim dews surround,
And the sun-glow dooms picks no more sound.
- The poems from Lu Guimeng's (陸龜蒙) Anthology: Ten Poems on Tea Untensils
.
Leave a comment
Comments will be approved before showing up.