50 Benefits of the Ashitaba Tea Plant Leaves and Seeds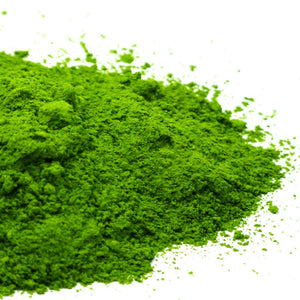 Introducing Ashitaba
Considered one of the elite among medicinal plants, mention of Ashitaba can be found as far back as 16th century in Ming Dynasty Chinese Medicine documents. Known in Japan as the "Longevity Herb", for its countless healing qualities, Ashitaba is an ancient medicinal plant, but only more recently, in the 90s, have the actual benefits been researched by scientists.
The remarkable plant is endemic to a central region of Japan, Hachijō-jima, a volcanic island, though now it is artificially grown elsewhere. Legend has it that the plant contributes to the health and longevity of local residents and cattle. The name (Japanese for "Tomorrow's Plant") refers to its regenerational abilities. After planting a leaf at the break of day, often you'll be able to see the sprout the next morning.
Ashitaba the superfood
In the 1990s, top researchers at Osaka University in Japan, Wuhan University in China, and Meiji College in Tokyo began diving into the health properties of the plant. What they all found were consistent indications that Ashitaba does belong on the medicine shelf and in the daily health regime. It's possible that all of the hype has actual fact to back it up.
These days Ashitaba can be found in health stores, vitamin shelves, supplement bottles and as a traditional tea, though it's still growing in popularity. It's hard to say where the potential and the future of the plant will go.
To date, there isn't a lot of American medical research to corroborate this data, but the feedback and buzz surrounding Ashitaba is convincing enough to give the delicious herbal tea daily a drink.
Ashitaba Tea
While we're certainly preoccupied with the health benefits of Ashitaba, it is important to keep in mind that it also a tea with a lovely flavor. Not only should it be consumed for medicinal purposes, but it should be savored. It has been described as a flavor sibling to Green Tea, but a non-caffeinated alternative, so it can be consumed later in the day. Ashitaba can also be steeped for longer, because the flavor doesn't grow more bitter with time. It is described as tasting fresh, nutritious and nutty.
One of the benefits of drinking Ashitaba tea is that it can be quite invigorating, so that should be kept in mind when consuming.
Our Ashitaba Plants
The Ashitaba offered by Wild Tea Qi comes from volcanic rich soil deep in the mountains where there is plentiful sunshine and clean air. It is carefully cultivated using entirely organic farming techniques. It has been called the King of Alkaline as it is known for its extremely alkalising properties. It has found a place among the world's Super Foods because of its rich antioxidants.
Vitamins and Minerals Found in Ashitaba Leaves:
Research has revealed these Basic Ashitaba Benefits:
Ashitaba Can be Used to Treat the Following Health Issues:
GI tract disorders:
Here are the Chinese Medicinal uses of Ashitaba:
Ashitaba is Typically Offered in 3 forms - Tea, Leaves, and Seeds:
If these are currently not available on our website, please contact us: info@wildteaqi.com to ask about individual sales.
Ashitaba Green Leaf Powder: This is highly concentrated powder can be mixed with your favorite beverage. This gives the drinker the benefits of the powder, if they aren't especially fond of the flavor. The green leaf powder is high in chlorophyll, giving it a green glow.
Ashitaba Chalcone Powder: This powder is especially useful for fighting acid reflux. It offers a highly concentrated dose of the Chalcones (powerful antioxidants) in Ashitaba plants. It can be mixed into beverages easily.
Ashitaba Loose leaf Tea: This tea has the slightly bitter and nutty flavor described above. It's invigorating and it's almost as though you can taste the delicious health benefits that it offers.
For Teas are not available online, you can contact us to get it especially for yourself: info@wildteaqi.com
We're offering Ashitaba with limited quantity from the pure organic farm if you would like to have some homemade organic limited edition Ashitaba green leaf powder, please click the link below:
If you would be interested in to know more details of our Ashitaba, please email us: info@wildteaqi.com
16 Responses
Leave a comment
Comments will be approved before showing up.